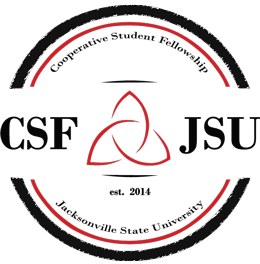 Who We Are
Cooperative Student Fellowship is a student faith-based organization and is led by students, with guidance from the local church sponsor.
What We Do
As a group, we hope to set an example of tolerance and missions-minded work, showing what it truly means to be a follower of Christ. We embrace challenging ideas and are always open to conversation. We seek to forge genuine relationships among all members. Regardless of background, belief, or tradition, all are welcome.
CSF meets on Wednesdays at 5:30pm for a free meal and fellowship, and at 6:30pm for an open Bible Study.
Additionally, mission projects, trips, and retreats are organized each month.
Mission Statement
To bring like-minded students together for fellowship and service